There is an abundance in variety of styles and designs that when it comes to leather biker jackets almost anything goes. This is probably one of the reasons why the biker jacket is a timeless fashion classic that will never fade.
We can broadly categorise the fashion biker jacket, that is to say the style worn as an item of clothing rather than protection, into traditional classic and designer themes.
The traditional design has an asymmetric zip creating two styles in one, triangular lapels when unzipped or part zipped, or conversely a smooth finished front when zipped to the neck. The collar on the traditional biker jacket can be either short stub, otherwise referred to as a nehru collar or a fold down collar. The cuffs typically have rear placed zips and the cut tapers at the waist for an semi-fitted look and there are atleast 2 zip pockets at the waist or more if added to chest and, or sleeves. Worn by many of traditional and stereotypical Harley Davidson bikers have an array of studs as well as leather tassels or plain pull straps on the zips.
A lot of the great designer styles have a biker theme or influence. This look has a coveted chic cool glamour that transcends gender, age and sexuality. Iconicised by many celebrities such a James Dean, Marlon Brando, Tom Cruise, Freddie Mercury, Arnold Schwarzenegger in Terminator.
Undoubtedly the classic biker colour is black and cut is fitted. Actual motor bike jackets are made from cow hide, a much denser and thicker than nappa leather which is derived from sheep or lambs. Motor biker riders need the extra toughness of cow hide to protect their skin in the unfortunate event of cascading down a road in an accident. High designer end jackets are crafted in supple nappa which does not need to be broken-in in the same way stiff hide does.
A good example of a hard core vintage 70's style leather biker, a fashion relic which epitomises the origin of design.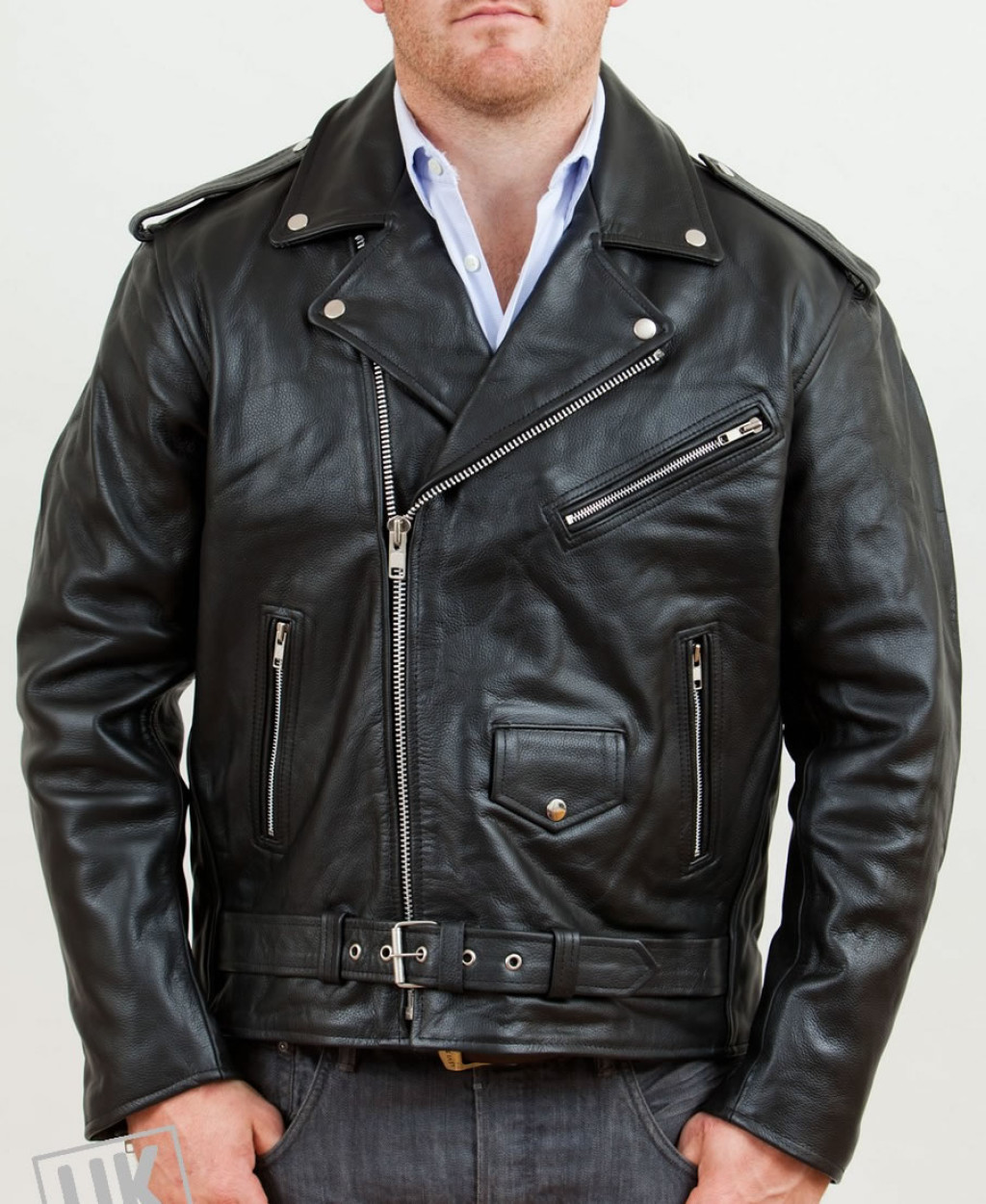 A good example of a classically styled ladies biker jacket design that works well for smart and casual wear as it offers an understated elegance without being formal.