Now that British Summer Time has kicked in and the evenings are growing by the day which gives most of us the stirring to go out after work and enjoy some well earned fun and relaxation. With spring in the air lots of us think about doing a bit of de-clattering and clearing out, which inevitably means throwing out all the clothes we never wear as we don't really like them or think they don't suit us anymore.
So when clearing out all the dud stuff out of the wardrobe, we realise that we are missing a few key and glue-together pieces that will complete most items, these tend to typically consist of:
A stylish blazer that will work with jeans and smart casual trousers is an invaluable accessory. You can throw this on when you need to get dressed in a hurry nad if you have two to three of these that will go will almost anything, then you are set to go.

One great leather jacket, if you have the money two jackets and one coat is even better.

Good fitting and nice quality pair of jeans / trousers - again depending on the budget anywhere from one to three pairs is the starting point.

Good pair of shoes / boots - men can get away with just one to three pairs depending on their desire for shoes and available budget. Women can also get away with one good pair of boots but will also need at least one good pair of shoes as the bare minimum.

Belt - at least one good quality belt that fits the trousers properly is an essential must have.

For ladies - accessories such as jewellery, belts, scarfs will accentuate and transform outfits.

Quality shirts, t-shirts and tops complete the essemble.
Whatever your style a gorgeous jacket crafted form gorgeously soft nappa leather will always stand the test of time. Whether you opt for a classic style or something more edgy with a high fashion feel it will always give the finishing touch to your outfit. It is very hard to put your finger on it, but a quality garment whether you are a man or a woman has the ability to transform your look and mood, if you look great you feel great. With our hectic schedules and busy lifestyles we need to make the most of the leisure time we have. A lot of us will save the clothes we love the most and feel the best in for special occasions, which can mean we wear them only a few times a year and before we know it the item has spent years in the wardrobe gathering dust and cobwebs. Not a lot of point in that really
So grasp life by the hand and ensure that you allow yourself at least one great jacket that makes you feel wonderful. It really does not matter what style it is so long it is what you like and want to wear. If you need a little inspiration then consider whether you prefer the understated elegance of a classic style or the coveted cool of the eye-catching fashion styling.
We all love the feel and touch of good quality leather, there just is nothing else like it. Since the dawn of man, we have always sought the protection of animal skin and its natural qualities: comfort, suppleness, sumptuous feel, great fit and moulding to our shape, breathability and endurance.
Ladies Leather Jacket - Safari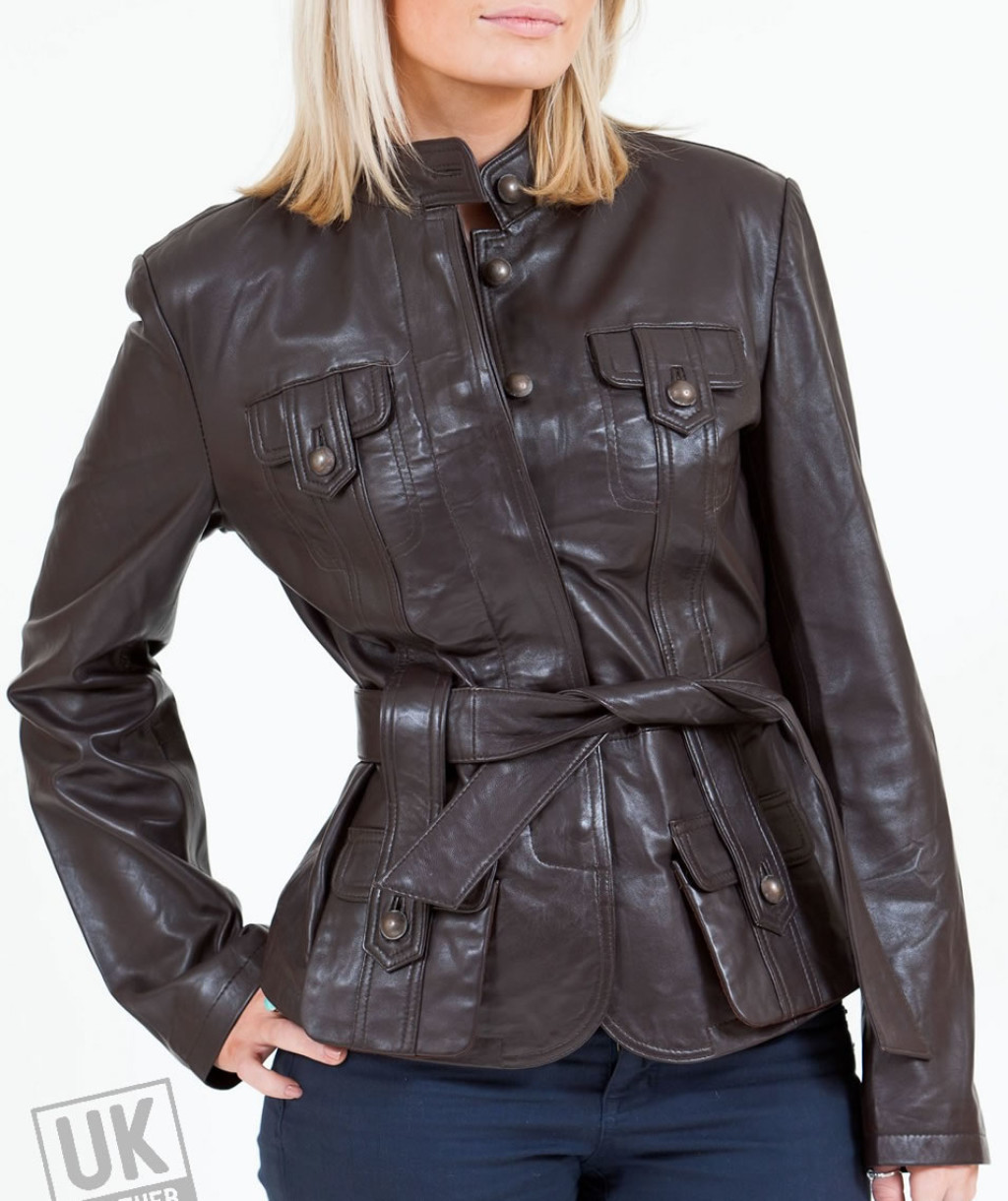 Men's Black Leather Jacket - Harrington