It's been a slow start to the summer, which has come as no surprise once again this year. The dreaded April showers have been true to the cliche and a month's rain has seemed to last for 40 days and 40 nights. Temperature's begrudgingly remain cool form day to day, and coupled with a breeze it feels like we have barely escaped the clutches of winter, even in late spring it seems. It seems that good old Blighty itself could do with a jacket, if only it were possible.
So with all this wretched weather it is not surprising if you are thinking of treating yourself to some new clothes for your wardrobe. So if you are thinking of getting yourself a new outer jacket have you considered a leather jacket to help wash away the rainy blues and re-vamp your range of attire.
Leather is so diverse as well as iconic you really can't go wrong. What's more the range of styles is so vast that there is something for every and anyone. There are classic button styles such as blazers and reefer jackets which do come in vented and straight back options and are always a very safe choice, or if you want a zip jacket with a bit more relaxed come sports casual feel then a Harrington or blouson good alternatives and do still offer that very timeless appeal.
If that's not your thing and you prefer a more fashionista or individual look then perhaps a cross zip (asymmetric) or straight zip biker or bomber jacket is more likely to take your fancy. Again there is a huge variety of designs, cuts, colours and finishes. The more conventional colours can be described as solid bloc colour finishes and offer very uniformly consistent finish with no shade variation. If you prefer a slightly lightened shade with some subtle dual toning or more edgy vintage finish then you want a vintage, antiqued or aged look colour shade as these display a lively variation in the colour intensity and so deliver softer colour shades.
So consider carefully, a jacket made of leather is more than likely going to be more versatile that its cloth variant, simply because leather has an unwritten ability to go with more dress and clothes styles and choices. It is hard to put your finger on exactly why this is, but it definitely does, just ask five to ten individuals who do look like they have a good dress sense and they will concur! So whatever your style, leather is a safe bet plus you have the option of a wide variety of colours to choose from and also finishes. Concerning colours there are the usual suspects: black, brown, tan, red, ivory (cream), blue, navy, beige, purple, pink, green. Where finishes are concerned there may be more than you think, regular sealed nappa leather, brushed matt leather (nubuck), suede, semi-glazed (70s retro), waxed for a country squire look and also added practicality for wearing in the rain, distressed (areas with real wear showing-machine inflicted of course), washed finish to look used and softly crumpled, vintage dual toning, antique hand painted colours.
This is a timeless jacket in a classic vintage racing jacket design that offers comfort and undersated style.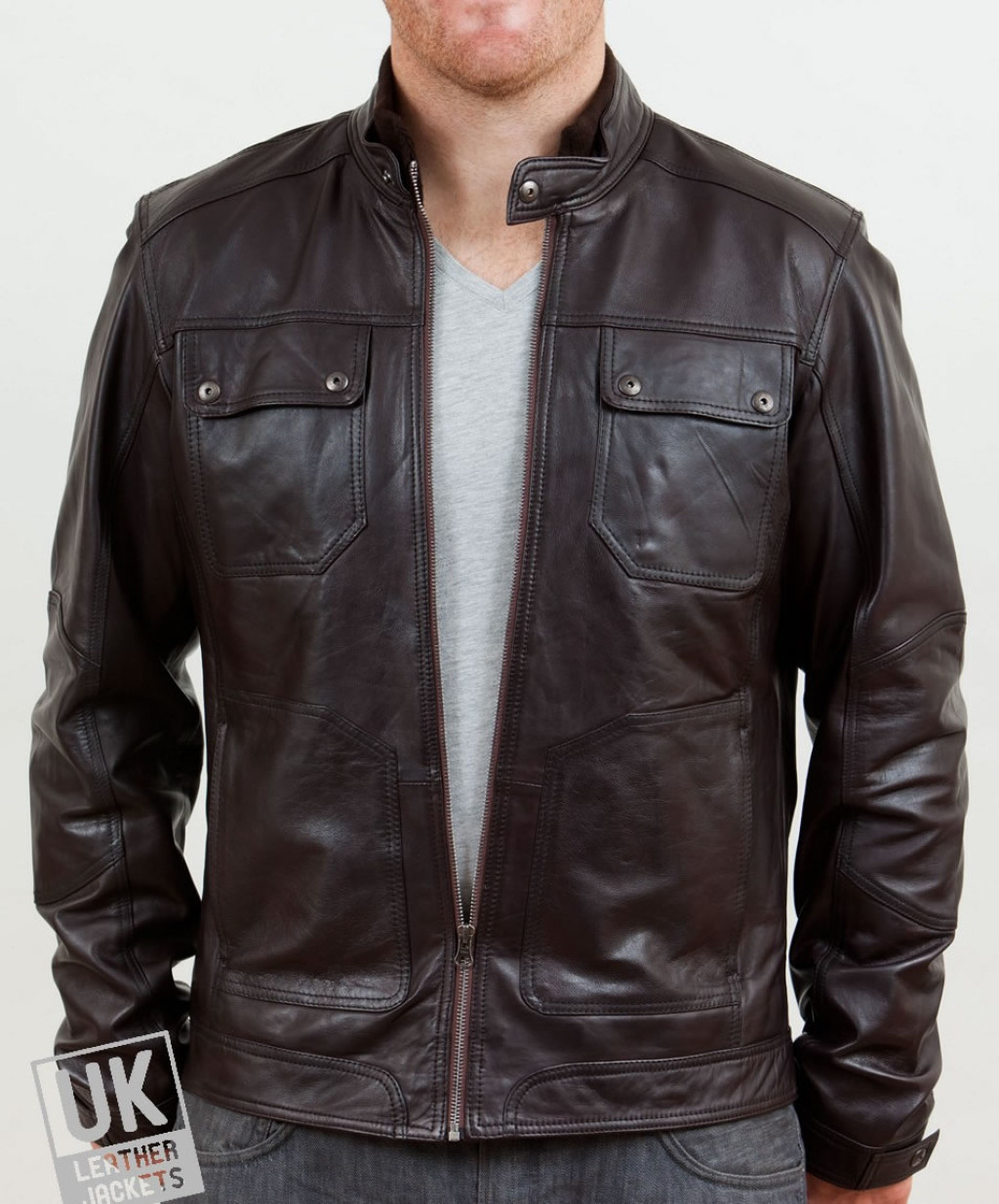 A women's asymmetric black leather jacket great for seeking a fashion style.