It is hard to know sometimes whether a low price item is just a false economy or the expensive item simply overpriced! The conundrum possibly is no less when it comes to buying a jacket or coat, after all is leather not just leather at the end of the end day? If you are looking to buy a new coat or jacket then what really matters is "what are you looking for ?"
Firstly, when it comes to the quality and feel does vary significantly. Nappa is regarded as the best quality as it is gorgeously soft to touch and beautifully lightweight to provide ease and comfort for all day wear. It is important to note that nappa still has a medium thickness and is not paper thin. If you are looking for something a bit more heavy and sturdy then cow hide (also know as buffalo hide) is what you are after. Nappa fits like a glove from day one, whilst hide leather can at times require a bit of breaking in as it can be a little stiff by comparison. All leather irons itself out when worn as it warms up with the body's temperature and moulds to your shape naturally. Here's a quick run down of the types:
Nappa - this is sealed and is beautifully soft touch, lightweight, supple and a joy to wear all day long. Made from sheep or lamb skin and generally considered better quality than hide. Has a soft and very subtle sheen finish (most quality handbags and shoes are made in nappa).

Aniline - this is a version of nappa that is unsealed and undergoes a washing process during the tanning process which gives a more subtle colour finish and extra silky softness.

Nubuck - gorgeously soft with a very short and fine nap finish, could be described as a velvet finish on leather. Nubuck characteristically gives a dual tone colour effect a sthe nap catches the light in different directions.

Suede - thicker than nubuck and the nap is much coarser too.

Brushed - this is not as soft as nubuck but still offer a very good suppleness and softness. Ideal for those that want a matt finish look.

Hide Leather - this is the heaviest weight and thickest. Motorbike jackets are made from hide as it is much hardier. If the weight of the jacket is not an issue and you are after a jacket that you can rough and tumble in then hide is a good choice.
Once you know which type will suit you best, next key factor is for you to decide on which style you really, really want and will feel comfortable in and not what you think you should have.
There are great bargains to be had in clearance / end of line sales. If money is not a problem then the price tag is less of an issue. First thing is to think about is whether you want a classic, fashion, designer or edgy style. Next decision is the length, standard length is typically past the waist to very top of the hip, shorter length jackets are also available for those wanting a cropped look as seen on the fashion catwalks or for those after a petite fit. Then there are longer length jackets which fall just over the hips. For those that want a coat there are three main choices: short coats which could be classed as long jackets which finish past the hips or half way down the thigh, 3/4 length which is to the knee or just past depending on your height, or full length. Colour choices, now here's another large range of options potentially, it all depends whether it is the very classic brown or black that never lets you down regardless of what's happening with fashion trends, or if you want something different or just keen on colour but still want a classic look then there's red, ivory (cream), light tan and dark tan these are constant staples and great for combining with most wardrobes. And of course, there are also a great myriad of fashion colours from the pale pastel and vivid greens through to the rosie pinks and luscious purples and the shades in between.
So whilst there are a number of decisions to be made if you don't initially have a clear or set picture of what you after, remember you will always make the right purchase if you are honest with yourself in what you really want, rather than pushing yourself into what you think you should have.
Plus we all know how good it feels when you buy yourself a new item of clothing that you really like and feel good in, and leather gives you that luxurious pampered feeling. So don't deprive yourself and take advantage of the end of season clearance bargain rails sales.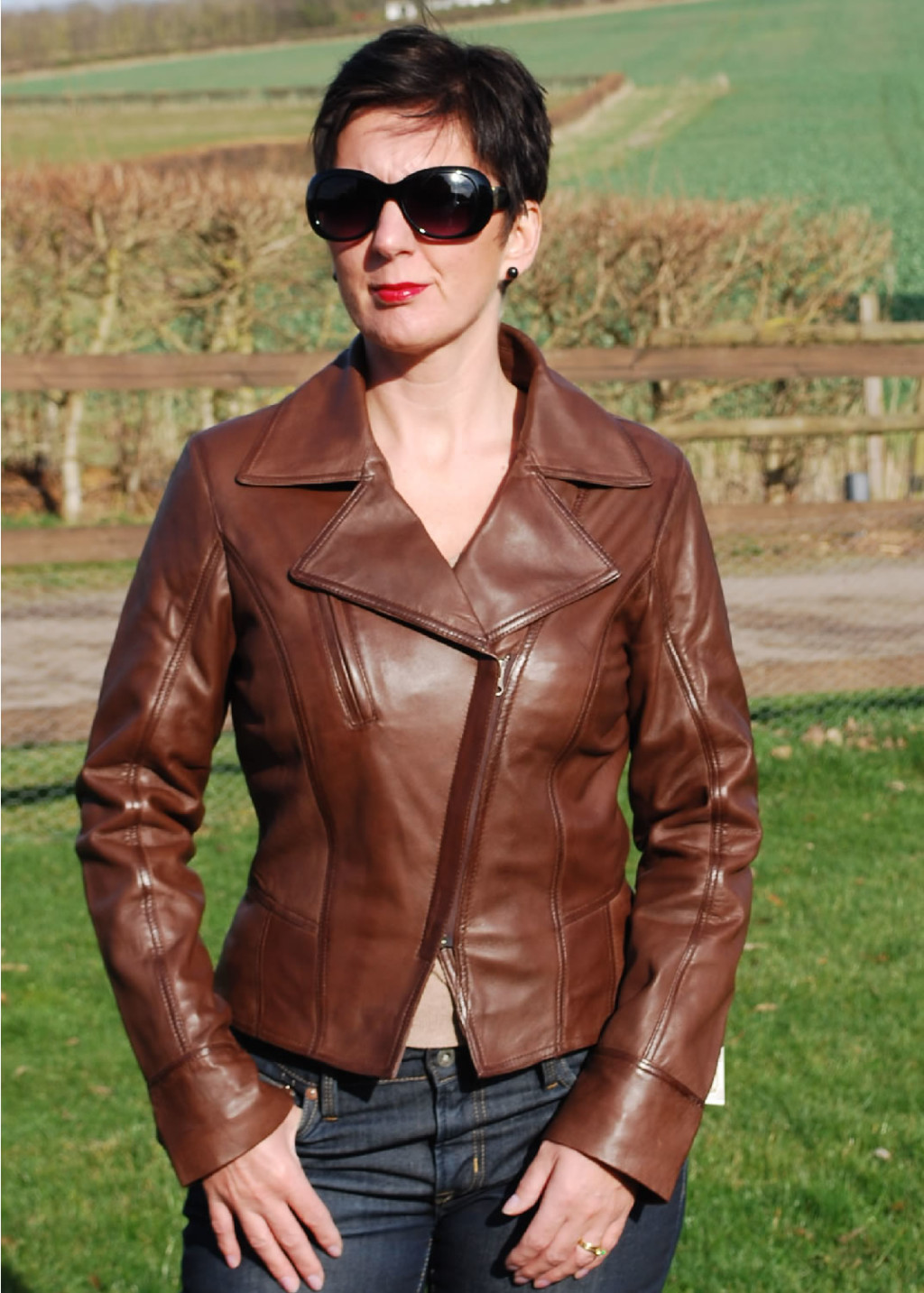 Men's Black Cow Hide Leather Jacket - Classic Harrington